Home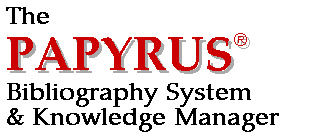 Store and cross-link your references, notes and graphic images
Import bibliographic references from anywhere
Instantly locate references by any field
Combine with your word processor to produce perfectly-formatted manuscripts and bibliographies
Link your references to the Internet

Papyrus is now FREE.

You may download the final editions of Papyrus via the following links.

Monthly Status Report
Important news about our progress and plans. Includes information on latest versions and recent changes.
PAPYRUS for DOS/Windows
PAPYRUS Version 7.0 is available as a DOS program, designed to also work under Windows.
PAPYRUS for Macintosh
PAPYRUS Version 8.0 is available for Macintosh -- with many powerful and exciting new features.
e-mail Lists
Here our customers share their questions, suggestions, and tips. If you have a problem with Papyrus, we suggest that you use these e-mail lists to consult with your Papyrus-using colleagues.
User contributions
Output formats, lists of official journal names and abbreviations, and other helpful creations from some of your hard-working colleagues.
---
---
"PAPYRUS" and "Research Software Design" are registered trademarks of Research Software Design.
This Web site, including all text and images, Copyright © 1998-2004 Research Software Design®, All Rights Reserved.
Research Software Design is not associated with ISIS Marketing Service GmbH, its U.S. subsidiary, ISIS Information Systems, Inc., nor its "PAPYRUS" Document System software.
Research Software Design would be appalled if it had any association whatsoever with RSD Sa or its U.S. subsidiary, RSD America, Inc.
---
1 January 2004